Looking for more information on how to become a Green Lease Leader or to simply explore green leasing best practices and case studies? Preview the Landlord, Tenant, and Team Transaction applications in their entirety, download our landlord and tenant reference guides, and check out our featured resources below. Don't see what you're looking for? Visit greenleaselibrary.com.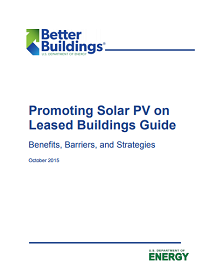 Promoting Solar PV on Leased Buildings Guide
This guide outlines the benefits, barriers and strategies to installing solar on leased buildings.