About Green Lease Leaders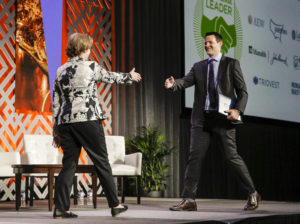 Green Lease Leaders recognizes forward-thinking companies and real estate practitioners who break down barriers to high-performance buildings by revolutionizing leases to incorporate energy efficiency and sustainability.

The cumulative floor area of all Green Lease Leaders is now more than 2 billion sq. ft. of building space—a clear indication that green leasing is continuing to grow as a best practice across markets and building types.

The Green Lease Leaders program is a reflection of dozens of conversations with commercial, retail, and industrial real estate leaders and other leasing stakeholders, as well as market progress in green, also known as "energy- and water-aligned" or "high-performance" leasing. The application period to be recognized as a Green Lease Leader in 2019 has ended. Looking to achieve Green Lease Leader recognition in 2020? Use our online application portal today. The deadline to apply is March 31, 2020.
Program features include:
Recognition Criteria
Aligns with EPA's new ENERGY STAR for Tenants recognition program
Silver and gold recognition levels

Silver level recognizes the implementation of green lease language in foundation corporate policies and standard lease forms
Gold level recognizes the execution of green leases
Green Lease Resources
Reference guides for tenants and landlords to support participants in identifying and documenting their green leasing best practices and to earn recognition as Green Lease Leaders.
Online lease assessment to allow tenants and landlords to quickly determine opportunities for improvement.
Case studies and tip sheets
Online application portal
Have feedback? Send it our way.
Privacy Policy
View IMT's digital privacy policy here.