"Congratulations to this year's Green Lease Leaders. These leading organizations are driving lasting change in U.S. buildings by creating mutually beneficial agreements between landlords and tenants to pursue emissions reduction targets."

- Maria T. Vargas, Senior Program Advisor at DOE and Director of the Better Buildings Initiative 


"Green leases are a common sense, proven solution to create high-performing buildings and improve our communities. We have seen that they not only reduce energy use, but also promote strong relationships between landlords and tenants. This was invaluable during the pandemic, and we see tremendous opportunity to build on these relationships to improve social as well as environmental outcomes."

- Lotte Schlegel, Executive Director of the Institute for Market Transformation
This year the program expanded by 23%, a new record, and it released a new Platinum tier that recognizes companies for integrating high performance leasing and social equity practices into building operations. There are nine companies in the inaugural Platinum cohort.
This year's Green Lease Leaders represent portfolios totaling nearly two billion square feet (sq. ft.) and comprise a diverse range of buildings from large and small commercial offices to data centers and industrial and multifamily buildings. The cumulative floor area of all Green Lease Leaders is now five billion sq. ft. of building space.
For more on this year's recipients, read IMT's press release.
Supporting Partner of the Year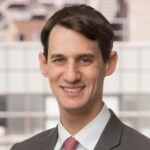 Harry Etra
Chief Executive Officer, HXE Partners

"HXE Partners is proud to leverage the Green Lease Leaders program as the Silver, Gold, and Platinum levels of recognition provide a great structure for progression and improvement for our clients. Programs like GLL are essential in empowering companies to execute on their broader sustainability and ESG goals."